Blog
Chamber Music Every Day
---
There is something uniquely compelling about chamber music -- a small group of musicians, usually playing in an intimate venue. As a musician, I love to play it, and as an audience member I have a special place in my heart for it, too. I attended a remarkable performance today featuring renowned baroque cello player Jaap ter Linden. He was joined by Annalisa Pappano playing bass viola da gamba, theorbo player David Walker and harpsichordist Michael Unger. [caption id="attachment_1119" align="alignright" width="450"]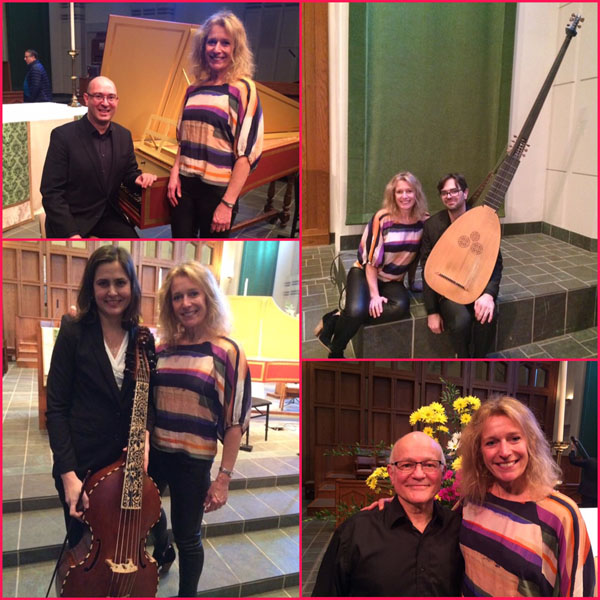 Michael Unger at the harpsichord, David Walker and his theorbo, cellist Jaap ter Linden, Annalisa Pappano and her bass viola da gamba[/caption] These instruments are all quite different, and the program had them grouped in various configurations for each selection. The musicians were a mix of genders, generations, and nationalities. It was delightful to hear their beautiful sounds blending and watch them exchange glances and smiles, breathe together, imitate musical gestures, and pause for dramatic effect. It's a hearty dialogue between the players -- civil, playful, sometimes a wee bit competitive, yet always respectful. The musicians take turns letting each other shine and playing supporting roles. It reminded me of how much better everyday life might be if people used chamber music playing as a model for their interactions. It probably sounds corny, but think about it! All the values of playing chamber music apply beautifully to communicating with friends, family members, coworkers, and even strangers: being civil and respectful, taking turns, being playful and competitive, but always in a good-natured way. And look how beautiful and satisfying the end result is when we keep some of those ground rules in mind! So, I'm going to make a point to think "chamber music" now as I go about my day. Maybe you'll give it a try, too!
My Favorite Things - Valentine's Edition
---
It's Valentine's Day, when many people's expectations are high for romance. Candy, flowers, cards and romantic dinners are OK, but what moves me even more is MUSIC. With that in mind, these are a few of my favorite things -- baroque and early music that is luscious and romantic and perfect for ANY time, not just a fleeting holiday. Always the perfect fit. At the top of my list is Johann Sebastian Bach's Concerto in d BWV1043 for 2 Violins, particularly the rapturous middle movement. They are some of the most beautiful notes ever combined, and hearing them gives me goosebumps. Every. Single. Time. Next, the aria OMBRA MAI FU from George Frideric Handel's opera XERXES. Also known as simply the Largo, the familiar music is a beautiful tender melody paired with unlikely lyrics. It's a love song sung to a tree, praising its shade-giving and other qualities. It's like love in real life: tender and lovely, but also a bit goofy. The Chaconne by Antonio Bertali is a pretty and captivating repeated melody that ultimately unwinds and evaporates into thin air. My favorite performance of this pretty music by the Verona-born composer features violinist John Holloway, organist Aloysia Assenbaum and harpsichordist Lars Ulrik Mortensen. With so many beautiful settings of the ultimate romantic poetry -- the Song of Songs -- Giovanni Pierluigi da Palestrina's settings have to make the list. How could anyone resist the invitation to "Arise my love, my dove, my fair one, and come away..."? (Try The Sixteen's recording!) I could go on, but now I'd like to know YOUR favorite baroque and early music. What piece helps you chill out? What composer always puts a smile on your face? Which CD do you turn to when you need just the right music? Do you have a favorite performer or ensemble? Let me know and ... Happy Listening!
Good for the heart, mind and soul
---
An article in the NY Times recently featured people who turn to making music in retirement. (Joanne Kaufman 1/29/17) Some were returning to playing instruments they played as children, while others were learning for the first time. Their passion for music had been deferred for a variety of reasons -- time, money, careers, families, perfectionism, and other distractions. Now, decades later, with time on their hands, more money in their pockets, and the wisdom of maturity, they are digging into music again -- dusting off long-neglected instruments, signing up for lessons, and approaching their practice time with enthusiasm and discipline they often lacked in their youth. The benefits abound: the delight in making music again, the satisfaction of mastering (or remastering) skills, the joy of connecting with others, and the continuation of learning. I love this! It's never too late. Never. A retired physician friend who adores music and has long played piano told me he recently joined a choir even though he's never sung, not even in the shower! He finds it exhilarating ... and terrifying. He loves it. When I meet Sunday Baroque listeners, they frequently confess their regret at giving up their childhood music making, saying "I wish my parents hadn't let me quit those [piano, flute, guitar] lessons ..." Nobody -- NOBODY -- has ever told me how grateful they are for quitting. So if you're looking for a belated New Year's resolution, or maybe just some outside encouragement to act on that nagging desire to rescue your lonely clarinet from the basement, here it is. Just do it. And don't feel you have to wait for retirement -- MAKE the time now. Call your local music teacher and tell her Suzanne sent you. Then let me know how it's going! https://www.nytimes.com/2017/01/27/business/29retiringplaying-instrument-in-retirement-piano-flute-horn-chorus-ensemble.html?_r=0
Music for its own sake
---
For many years, we have heard about studies attempting to show a connection between musical training or listening to classical music with extramusical benefits, such as advanced brain function or activation. Remember "Mozart Makes You Smarter" and all the articles urging women to play classical music near their pregnant bellies, to name a few? The conclusions of some of those studies have been challenged or debunked, while others have produced some promising results. Either way, there can't be much harm in listening to more Mozart or bellying up to your classical playlist for baby's sake. Music certainly has a profound and positive effect on my mental state and my life in general in many ways. But while it's personally validating to have hard data about music's additional positive effects on the brain, intelligence, math scores, IQ, and such, these studies also make me a tiny bit uneasy, especially when they are used to justify the importance of music and music education. Maybe listening to classical music increases math scores in children, and maybe musical training in childhood affects IQ. But even if they don't I believe music and musical training have intrinsic value, even without all those extra bells and whistles. Listening to music and making music are pleasurable and valuable activities all on their own, for kids and for adults. Whether or not math scores improve, children should have access to musical activities and training. It can inspire creativity, emotional expression, teamwork and discipline. Most importantly, it creates happier, more well-rounded adults. The world needs people who love music, and the arts in general, simply because the arts are fundamental to our broader culture. So even if Mozart doesn't make us smarter, Mozart makes us happier. And that is enough for me!
Giving feels good
---
Recently I had lunch with a friend who is a generous, longtime public radio supporter. He expressed surprise that more people don't support their local public radio stations, and we talked about the excuses many listeners make for not contributing. He looked me in the eye and asked, "Do you know why *I* support public radio?" I threw out a few possibilities, and he said, "No! The reason I give is because it FEELS GOOD. That's it." He's right. It does feel good to be part of something you care about. It feels good to have a personal stake in the success and future of something that's an important part of your daily life. So, now I'm wondering: do YOU support your local public radio station? If not, why? If so, why? Do you agree with my friend that giving feels good? What would you say to your fellow listeners who don't support their local stations to try to change their minds?
The Lowdown on Downloads
---
Confession: I am not an early adopter. I have no aversion to technology at all. In fact, I savor the many conveniences and treats technology can provide, and I enjoy learning new things. But I won't run out and acquire something just because "everyone" has one; there has to be a demonstrable need or application to convince me. I didn't even bother with a cell phone until a couple of years ago because I truly did not need one. However, once that balance tipped, I went out and bought the newest smartphone on the market at the time. It was similar with CDs and downloading music. I'm still in the transition period for that. Having started in radio right as CDs were becoming the standard, I still have a significant quantity of them. But, slowly, downloading is taking over and I find myself wondering how long it will be until the transition is complete. How about you? Do you buy music to enjoy in your home, car or office? Do you still buy CDs? Do you download? Do you stream from an online service? Besides listening to the radio, how do you listen to music? What devices do you use? Are you still hanging on to your turntable and LPs? Do you have different sources for different genres of music, maybe listening to classical music from CDs but other genres on your iPod, for example? I'm curious to know your listening habits. Now it's your turn to fess up!
Musical Highlights of 2016
---
As 2016 winds down, I've been thinking about musical highlights of this past year. There were some interesting recordings released in 2016 (see the Sunday Baroque Holiday Gift List for a few of my favorites), and I had a chance to interview some renowned musicians including organist and conductor Ton Koopman and lutenist Ronn McFarlane, to name just two. As an audience member, I heard (and saw) members of the Cincinnati Symphony Orchestra become animated in a way I'd never seen them before under the direction of Mr. Koopman, and heard violinist Daniel Hope featured in a gripping program of music by composers silenced by the Holocaust. As a flutist, I also had many gratifying performing opportunities in the past year, such as traveling to Guam to perform a chamber music recital with outstanding musicians there. These highlights were only a few of the many satisfying musical experiences I was fortunate enough to have in 2016, and they make me look forward with excitement to what's next in the new year. What about you? What were some of your musical highlights of 2016? Did you have a favorite recording you played over and over, or did you attend a concert that moved you in a way you can't forget? Did you pick up a long-neglected musical instrument again, or maybe learn one for the first time? What is on your musical wish list for 2017?
Baroque Menu
---
People often ask how I craft Sunday Baroque each week from the enormous array of options. I start with the general parameters of the baroque era -- 1600-1750 -- and extend it to include some of the music that led up to those years. There are many composers and compositions and many recordings of their works, including familiar "big names" and music, and less well-known musicians and music of the era. Some of those recordings employ "period" or historical instruments. Those can be antique instruments or modern reproductions modeled on the earlier ones, such as harpsichord, baroque flutes and oboes, and early ancestors of instruments such as chalumeau, dulcian, natural (valveless) trumpet, and viola da gamba. There are also many fine recordings of baroque era music played on modern instruments: piano, modern flute and oboe, guitar, cello, and modern valved brass instruments, to name just a few. Some performers even pick and choose from old and new, such as using a modern instrument with a baroque bow, or baroque flute with piano. To me, these many variables and appealing performances are to be celebrated, and I admire the artistry of all these talented performers! The options are like a long and detailed restaurant menu, and just like placing a food order, you can't (or shouldn't) have it all at once! You choose from your personal tastes, hunger, budget, and mood. From my musical menu, my number one priority is to craft a radio program that sounds good to my ear and is entertaining to a broad audience: a main course with many side dishes and interesting spices. The vast array of recordings offers an opportunity to present texture, contrast and variety, and create an enjoyable and satisfying whole. So when you tune in for Sunday Baroque each week, you'll hear a blend of outstanding performances on both modern and historical instruments, and performers who are at the top of their game in playing them. There's no one "right" or "best" way that suits everyone, of course, but that's how I approach it. In the end, I strive to serve an entertaining musical banquet to satisfy a large and diverse group. Bon appétit!
What's your favorite Christmas music?
---
Quite a few of our most beloved and familiar Christmas carols have roots in the baroque era or even before. Many of them started as popular secular music such as dances, folk songs, or even drinking songs, with festive words added to go with the holiday theme. One of my favorites is Branle de l'Official from Thoinot Arbeau's Orchesographie. It's a dance tune from the 1580s, but you probably know it better as the lively Christmas carol Ding Dong! Merrily on High. In 1924 George Ratcliffe Woodward wrote the familiar words to go with the ancient dance melody. Do you have any favorite Christmas music? Maybe you even sing in a choir and have some hands-on experience guiding your choice of favorites. I'd love to know what music (baroque or otherwise) helps makes Christmas special for you and your family.
Gift ideas for the baroque music lover
---
This year's Sunday Baroque Holiday Gift List has a broad variety of recommendations, including a few surprises. There is something for just about every taste -- familiar favorites, less well known music, period instruments, modern instruments, and more. And of course, all the performances are top notch. One big surprise is THE PERFECT SOUTHERN ART, which features classical banjo player John Bullard. The eclectic CD features several baroque selections -- familiar music by familiar composers -- as well as music by Robert Schumann and Edvard Grieg. It shows a side of the instrument most people have never heard. I'm looking forward to interviewing John Bullard soon for a podcast we will share with you. If you have suggestions for what you would like me to ask him, please submit your ideas by Monday, December 5th by replying to this blog post. Meanwhile, please check out the Sunday Baroque Holiday Gift list on our website or Facebook page, and be sure to listen to Sunday Baroque for the rest of 2016 to hear selections from the gift list CDs!