Blog
Captivated by Music
---
A musician friend has been augmenting her busy performing and traveling schedule with visits to a prison to perform for the inmates. She plays classical music for these men, some of whom have never listened to this music in their lives. They are more than just receptive to this special treat of live classical music performances-- they become hungry and eager for it, and in some cases they quickly develop a deep appreciation and passion for this music. In post-concert surveys they admit to being deeply moved, and having their hearts and souls touched. They're also experiencing the gift of people caring enough to visit from the "outside" and engage with them to bring a new and enriching experience. The inmates are not the only ones having a new and enriching experience, either. You can read more about these extraordinary interactions here: https://www.insidethearts.com/neoclassical/2016/04/tonight-i-didnt-feel-like-an-inmate/
Happy Day!
---
Some of the holiest of religious holidays overlapped this year - the Jewish observance of Passover began one day after the Christian celebration of Palm Sunday and continues just past Easter Sunday. A lot of the music on Sunday Baroque is religious because the musicians in the baroque era often worked for the church, but our weekly musical gathering is ecumenical and inclusive. It's a celebration of the MUSIC, and I hope each listener is nurtured and uplifted in a personal and meaningful way, whatever that may be. This year's overlapping holidays, and the inclusiveness of music, reminded me of a wonderful friend who died two years ago. He was raised in an observant Jewish family, and was an enthusiastic classical music lover. As his Bar Mitzvah celebration approached, his mother asked him for a list of gift ideas because family and friends were asking her. He dutifully made a list of mostly LPs he wanted for his growing collection. He was delighted to receive one of his most coveted items on that list as a Bar Mitzvah gift. It was a recording of George Frideric Handel's oratorio MESSIAH! Music really is a universal language in so many ways. Every week we celebrate music together on Sunday Baroque: profound music that often honors specific religious traditions, but also transcends them in its beauty and artistry. So whatever this season means to you -- Passover or Easter or Spring or perhaps something else -- HAPPY DAY!
A Milestone
---
Last week, I had the pleasure of spending several days in Austin, Texas helping KMFA radio station celebrate its 50th anniversary. That's a rare and wonderful milestone for any radio station, and it's extraordinary for one with a classical music format. The events included a brunch for station donors, and two concerts by the Austin period instrument ensemble La Follia, hosted by KMFA. These were just a few of the ongoing activities the station is hosting throughout the year to celebrate its half century of existence. One of the most impressive aspects I observed was the pervasive community collaboration. Donors were recognized for supporting the station for 25+ and 50 years. What a vote of confidence to have contributors of such longevity! The station also has partnerships with a variety of arts organizations and businesses throughout the community, and there is great enthusiasm for the station even from people I met on the street. Whatever they're doing at KMFA, they're clearly doing it right, and their community recognizes and appreciates it. Congratulations to my colleagues at KMFA, and to the good people of Austin for nurturing such a valuable community resource!
Concert etiquette
---
While attending a chamber music concert today, I noticed how well everyone in the audience seemed to understand the "rule" of not clapping between movements. And while this was clearly a knowledgeable and attentive group of veteran concertgoers, it also reminded me of something a wise friend once said: he loves hearing people clap at the "wrong" time during concerts because it means someone new is attending! The concert featured musicians including the renowned violinist and conductor Jaime Laredo, whom I had a chance to chat with informally after the performance about concert etiquette. We've all seen people clapping at the "wrong" time and others shushing them, and Mr. Laredo made a passionate case for cutting people slack for showing their appreciation when they feel moved, and for not shaming them when they do. Too many people already feel intimidated about attending a classical music performance because they don't know what to expect, what to wear, how to behave, and yes, when to clap. So here is a thought: those of us who are insiders can mentor, teach and draw in new audience members, bring friends, help them feel welcome, and guide them along so they can fall in love with this music, too. That's something we can all applaud whenever we feel like it!
With a little help from my friends
---
I recently organized a benefit concert for a non-profit agency that provides free tutoring to adults who need help improving their literacy skills. An array of friends donated their time and energy: musicians shared their talents, other friends rolled up their sleeves and gathered raffle items, designed and printed the programs, hosted a lavish post-concert reception, and provided muscle power to set up and break down the chairs and tables. My public radio colleagues helped generate publicity for the event to fill seats and raise awareness of the agency and its vital services. Every aspect of the event was the result of a successful group effort involving many hardworking friends. It was magical and gratifying and a big success. More and more, I appreciate the tremendous value and pleasure of collaboration. As a musician, collaboration is essential in ensembles of all sizes. And in daily life, constructive partnerships seem to yield the best outcomes -- as the saying goes, "Two heads are better than one." And for the literacy organization that benefited from the concert proceeds, the tutor/student collaborations yield the greatest successes, as well as meaningful and often lasting friendships. So, I start this new week and the arrival of Spring, with gratitude for my many delightful collaborators. We really do get by with a little help from our friends!
March is Early Music Month
---
All across North America, musicians, ensembles, publications, broadcasters and music lovers are celebrating Early Music Month throughout March. There is plenty to celebrate! Thanks to decades of renewed interest in baroque and early music, there are many terrific musicians with expertise and sensitivity for the repertory, and the level of performing quality and scholarly expertise has never been higher. Recordings of outstanding performances are readily available, from the beloved and familiar repertory to less well-known composers and compositions. Baroque and early music are more integrated into the mainstream music scene than they were in the past, and are now less likely to be treated as a curious sideline or oddity. Musicians who cultivated their expertise playing early instruments or leading period instrument groups are now routinely branching out to lead modern orchestras, too.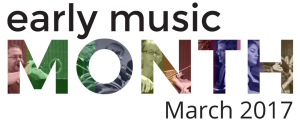 For example, I recently attended a performance of the Cincinnati Symphony Orchestra led by renowned Bach expert Ton Koopman. The concert was thrilling! It's a great orchestra, and it was wonderful to see the players in different and smaller configurations playing an all-Baroque program. Their body language was freer than usual and their faces were beaming -- it was a true collaboration and musical conversation between the players, and the resulting performance was electric! Many communities have terrific musicians and ensembles who specialize in playing baroque and early music, and some are also celebrating Early Music Month with special concerts, workshops, and other events. I encourage you to give yourself the gift of music by attending one of these events in your community. And as always, listen to Sunday Baroque! Find out more about this month-long annual celebration at earlymusicamerica.org
Just what the doctor ordered
---
Last week I was rehearsing for an upcoming concert with two other musicians, one of whom is not only a fine pianist but also a cardiac surgeon. To accommodate her schedule, we rehearsed in the lobby of the hospital where there is a fine quality grand piano. It was purchased specifically to allow for these spontaneous musical encounters by patients, staff, and visitors. As we played, people stopped to listen, watched intently, clapped when we finished a section, and a few even made a point to come over and sit down to rest and listen for a while. Unfortunately it's all too rare for most people to experience music in their everyday lives -- especially live music, up close. How smart of the hospital to recognize the value of such musical encounters on people's health and well-being! One woman enjoyed her break and a snack on a couch nearby as we played, and when we were done she gave a big sigh and said, "You have NO IDEA how relaxed that made me feel." Oh yes we do ... we most certainly do!
Chamber Music Every Day
---
There is something uniquely compelling about chamber music -- a small group of musicians, usually playing in an intimate venue. As a musician, I love to play it, and as an audience member I have a special place in my heart for it, too. I attended a remarkable performance today featuring renowned baroque cello player Jaap ter Linden. He was joined by Annalisa Pappano playing bass viola da gamba, theorbo player David Walker and harpsichordist Michael Unger. [caption id="attachment_1119" align="alignright" width="450"]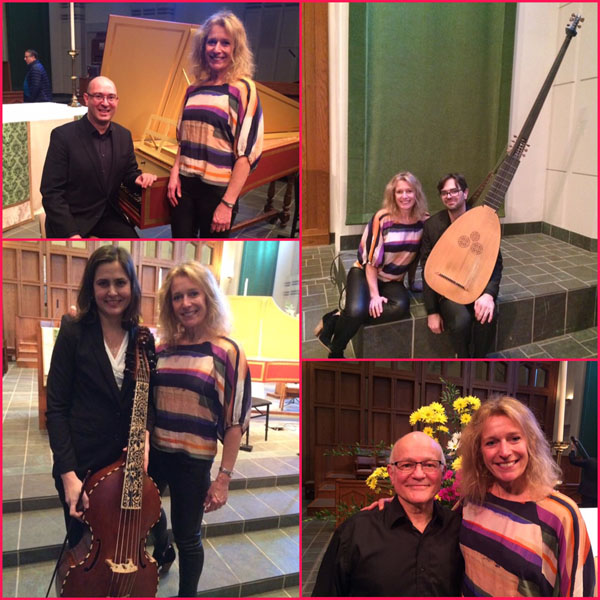 Michael Unger at the harpsichord, David Walker and his theorbo, cellist Jaap ter Linden, Annalisa Pappano and her bass viola da gamba[/caption] These instruments are all quite different, and the program had them grouped in various configurations for each selection. The musicians were a mix of genders, generations, and nationalities. It was delightful to hear their beautiful sounds blending and watch them exchange glances and smiles, breathe together, imitate musical gestures, and pause for dramatic effect. It's a hearty dialogue between the players -- civil, playful, sometimes a wee bit competitive, yet always respectful. The musicians take turns letting each other shine and playing supporting roles. It reminded me of how much better everyday life might be if people used chamber music playing as a model for their interactions. It probably sounds corny, but think about it! All the values of playing chamber music apply beautifully to communicating with friends, family members, coworkers, and even strangers: being civil and respectful, taking turns, being playful and competitive, but always in a good-natured way. And look how beautiful and satisfying the end result is when we keep some of those ground rules in mind! So, I'm going to make a point to think "chamber music" now as I go about my day. Maybe you'll give it a try, too!
My Favorite Things - Valentine's Edition
---
It's Valentine's Day, when many people's expectations are high for romance. Candy, flowers, cards and romantic dinners are OK, but what moves me even more is MUSIC. With that in mind, these are a few of my favorite things -- baroque and early music that is luscious and romantic and perfect for ANY time, not just a fleeting holiday. Always the perfect fit. At the top of my list is Johann Sebastian Bach's Concerto in d BWV1043 for 2 Violins, particularly the rapturous middle movement. They are some of the most beautiful notes ever combined, and hearing them gives me goosebumps. Every. Single. Time. Next, the aria OMBRA MAI FU from George Frideric Handel's opera XERXES. Also known as simply the Largo, the familiar music is a beautiful tender melody paired with unlikely lyrics. It's a love song sung to a tree, praising its shade-giving and other qualities. It's like love in real life: tender and lovely, but also a bit goofy. The Chaconne by Antonio Bertali is a pretty and captivating repeated melody that ultimately unwinds and evaporates into thin air. My favorite performance of this pretty music by the Verona-born composer features violinist John Holloway, organist Aloysia Assenbaum and harpsichordist Lars Ulrik Mortensen. With so many beautiful settings of the ultimate romantic poetry -- the Song of Songs -- Giovanni Pierluigi da Palestrina's settings have to make the list. How could anyone resist the invitation to "Arise my love, my dove, my fair one, and come away..."? (Try The Sixteen's recording!) I could go on, but now I'd like to know YOUR favorite baroque and early music. What piece helps you chill out? What composer always puts a smile on your face? Which CD do you turn to when you need just the right music? Do you have a favorite performer or ensemble? Let me know and ... Happy Listening!
Good for the heart, mind and soul
---
An article in the NY Times recently featured people who turn to making music in retirement. (Joanne Kaufman 1/29/17) Some were returning to playing instruments they played as children, while others were learning for the first time. Their passion for music had been deferred for a variety of reasons -- time, money, careers, families, perfectionism, and other distractions. Now, decades later, with time on their hands, more money in their pockets, and the wisdom of maturity, they are digging into music again -- dusting off long-neglected instruments, signing up for lessons, and approaching their practice time with enthusiasm and discipline they often lacked in their youth. The benefits abound: the delight in making music again, the satisfaction of mastering (or remastering) skills, the joy of connecting with others, and the continuation of learning. I love this! It's never too late. Never. A retired physician friend who adores music and has long played piano told me he recently joined a choir even though he's never sung, not even in the shower! He finds it exhilarating ... and terrifying. He loves it. When I meet Sunday Baroque listeners, they frequently confess their regret at giving up their childhood music making, saying "I wish my parents hadn't let me quit those [piano, flute, guitar] lessons ..." Nobody -- NOBODY -- has ever told me how grateful they are for quitting. So if you're looking for a belated New Year's resolution, or maybe just some outside encouragement to act on that nagging desire to rescue your lonely clarinet from the basement, here it is. Just do it. And don't feel you have to wait for retirement -- MAKE the time now. Call your local music teacher and tell her Suzanne sent you. Then let me know how it's going! https://www.nytimes.com/2017/01/27/business/29retiringplaying-instrument-in-retirement-piano-flute-horn-chorus-ensemble.html?_r=0