Blog
High-Tech Baroque
---
Once upon a time, if you wanted to hear Sunday Baroque, you had to listen to it on your local radio station at the time it was broadcast. Once the broadcast was over, it was lost forever into the ether. But time marches on, and since I began hosting and producing this program, technology has exploded and there are now many high-tech options for listening. If the program is not broadcast on your local station, you can hear it in realtime on the websites of other stations around the United States. We also now archive each week's program and make it available directly from our website for a week beginning one day after broadcast. It's also available through a free app: if you search your preferred app store for "WSHU Public Radio" and download it, Sunday Baroque is one of the sources offered. I'm curious to know how you listen to Sunday Baroque. Do you listen to the program more than once? Is Sunday Baroque your companion during the week, at work or around the house? Where in the world are you? And what's your preferred technology for listening? I'm eager to know more about you, our circle of Sunday Baroque listeners, so please check in with your story!
My favorite things
---
A confession: I am not fond of "Best of .." lists. I even find them a bit exasperating. They are especially popular at the ends and beginnings of calendar years, but they pop up year round, too. People often ask me for lists of the "best" baroque music or recordings. The main reason I don't care for these well-intentioned lists is their attempt to put an objective categorization on what is typically highly subjective material. My ten favorite compositions (or whatever) might not be yours ... and why should anyone's ten (or hundred) favorites of anything be deemed the "best"? Don't get me wrong -- I certainly have my favorites, whether it's music or food or recreational activities, and I know you do, too. That's a good thing! But my favorites can change as my experiences widen, my tastes evolve and even as my mood changes. When speaking of an art form, "best of" lists can be especially exasperating because they are a static review of something dynamic, and they imply a finite limitation. That's contrary to the idea of the creative process! And how many times have you heard someone giving their "10 best" list of something, with the disclaimer that it was difficult (or impossible) to limit their list? While there might be certain fixed things that are definitive, or historically important, or significant in meaningful ways, I'm not completely comfortable with the idea that this automatically makes them the "best." And I'm uncomfortable with the subtle implication that anything else is lesser. So, I might share some of my favorite compositions or CDs, but don't look for a Sunday Baroque "Best Of" list in the future! What are some of your favorite baroque compositions and why do you like them?
My "Hero's Journey"
---
Although I frequently interview people as part of my job, I recently sat on the other side of the microphone and was the subject of an interview for a new podcast. Melodic Connections is a community music therapy studio in Cincinnati offering an array of programs for people of all ages with various developmental disabilities. Its students recently created their own podcast called HERO RADIO:STORIES BEYOND THE MUSIC, and they asked to interview me about Sunday Baroque and my life as a musician. I loved meeting and conversing with my interviewers -- Quincy, Ashley and "The Joes" -- and was impressed by their insightful and compelling questions. They even composed "superhero theme music" which they asked me to play for them on my flute! (A big relief for me, since they usually ask guests to SING their theme music.) I hope you will listen to my HERO RADIO interview and subscribe to the podcast on iTunes so you can hear what other people say about the importance of music in their lives! https://itunes.apple.com/us/podcast/hero-radio-stories-beyond-the-music/id1257084671
Classical music's future
---
Rumors of classical music's demise are greatly exaggerated. As long as I can remember, people have been pronouncing classical music as dying or dead. But last week, I had the pleasure of interviewing a young violinist who doesn't share that view. In some ways Michelle Ross has pursued a traditional path for a classically trained musician: earning a Juilliard School degree, studying Johann Sebastian Bach's music from a deeply scholarly perspective, and making her debut recording of music by Bach on a borrowed Stradivarius violin. [caption id="attachment_1405" align="alignright" width="300"]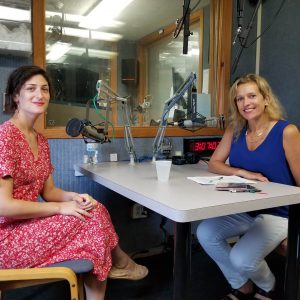 Violinist Michelle Ross and Sunday Baroque Host Suzanne Bona[/caption] But the twenty-something also took to the streets of New York to play Bach's Sonatas and Partitas in some unlikely places: a firehouse, the Staten Island Ferry, and a soup kitchen, to name just a few. Concert halls are fine, but she wanted to bring live performances of Bach's music into people's everyday lives. So ... she did. For her, the single most important thing is access. Give people access to the music, and it can change lives. She believes (and I agree) that the music speaks for itself. All these years, I've mostly ignored the pessimists, and Michelle Ross and her optimism renewed my faith. I hope you'll listen to my conversation with Michelle Ross, and be encouraged by her message, too. Listen to our conversation.
Party like the Founding Fathers
---
The "official" baroque era was 1600-1750. To put that into some context, George Washington was born in 1732, Thomas Jefferson was born in 1743, and Benjamin Franklin was born in 1706. They were all born during the baroque era! We know these men primarily for their roles as founding fathers of our country, but there were many other facets to their complicated lives, and music was among their interests. Benjamin Franklin was an enthusiastic music lover who played several instruments, and even invented one: the glass armonica. Thomas Jefferson described music as the "favorite passion" of his soul, and was an avid violin player who owned several violins and a huge library of music. And George Washington *liked* music a great deal, but only as a listener -- he admitted he couldn't carry a tune or play any instruments. So, however you are celebrating the Fourth of July holiday, I heartily encourage you to choose baroque music as your soundtrack and party like the Founding Fathers! www.SundayBaroque.org/listen
An invitation to share your suggestions
---
Over the years, I have had the pleasure of interviewing a variety of fascinating people about their relationship with music. Most of them are musicians, including people such as pianists Leon Fleisher and Simone Dinnerstein, guitarist Sharon Isbin, flutist Emmanuel Pahud, and conductors Nicholas McGegan, Ton Koopman and Masaaki Suzuki. They shared a variety of poignant revelations about their triumphs and obstacles, stories about their early starts in music, and glimpses into their sometimes surprising musical tastes when they're not working. And since even people who are NOT professional musicians are also deeply moved by music, I've also interviewed people such as journalist John Hockenberry and travel expert Rick Steves. All these interviews are archived on the Sunday Baroque website under the "Interviews" tab, where you can listen to them online or download them as podcasts. As we consider future interviews, whom would you like me to invite? Is there a musician whose work you'd like to know more about? Is there an unusual musical instrument you'd like to learn about from an expert? Have you heard about a creative person with a good story to tell about his or her relationship to music? Is there a public figure you know of who has a private passion for classical music? Or maybe you would simply like to suggest some questions or topics to ask of the variety of interesting people I interview. Please weigh in with your suggestions, and we'll do our best to explore them in the weeks and months ahead. Thanks!
How do you spell "inspiration"?
---
A confession: one of my all-time favorite movies is THE WIZARD OF OZ. I love that the core lesson Dorothy, Scarecrow, Tin Man and Cowardly Lion all learn is that the things they wanted so badly and sought so tenaciously were already in them -- they just had to recognize their gifts and believe in themselves. It's a simple yet powerful lesson for us all, and it came to my mind again last week. I MC'd an Adult Spelling Bee to benefit a local Literacy Council. It's always great fun -- the three-person teams study hard and expend great enthusiasm and energy to do their best. They overcome nerves and apprehension to compete in spelling increasingly difficult words. All the participants leave the event feeling proud and satisfied, and knowing they've accomplished something they initially feared. Before the spelling competition began, though, one of the Literacy Council's students stood in front of that room of strangers and told the story of his journey from being a non-reader to becoming a reader. He is a 58 year old man who explained that he finally became fed up with his situation and sought help. He spoke with great admiration, appreciation and affection for his tutor, and proudly informed us that he'd recently finished his first book and had just started his second book. Please pause and think about that. At age 58, this man just finished reading the FIRST book of his life. And he courageously explained to us all how he had come to the point in his life to seek help to make it happen. It was an extraordinary story about an extraordinary accomplishment. And when asked what advice he would give to someone else needing literacy help, he replied simply, "DO IT! DON'T WAIT." What wisdom! What inspiration! We all face challenges and set goals in our lives, and sometimes it is daunting and scary to tackle them. The bigger the challenge, the more hopeless or unrealistic it can seem. I hope this story is a reminder that even large obstacles can be overcome, and it's worth at least trying to follow your dreams. So ... click your heels together and DO IT! DON'T WAIT!
What feeds your creative soul?
---
Having dinner with friends the other night, the conversation meandered to activities that nurture our creativity. One friend is a retired engineer, but late in life he began art classes. He discovered he has a talent for painting, and he said, "Art feeds my soul." He spoke passionately about the significance of having a creative outlet in his life. Another friend is a retired physician who is an avid Bridge player, cyclist, and skilled amateur pianist and guitarist. These passions have become integral to both friends' worlds -- as essential to their well-being as water and food. Other friends are passionate about their avocations, too, including art, music, writing, flying, cooking, knitting and other pursuits. What feeds your soul? How do you make time for these hobbies and interests? Did you develop these interests later in life? What advice and encouragement would you give to others who might be deferring pursuit of their hobbies, passions and interests because of jobs, families and other duties? Please share your inspirational "pep talk."
Hi Ho!
---
A musician friend once joked that the definition of "highbrow" is hearing Rossini's WILLIAM TELL OVERTURE and *not* thinking of The Lone Ranger. It's meant to be a humorous observation, of course, and not a judgement. His joke popped into my head while listening to Maurice Ravel's BOLERO recently. I was instantly transported back to my first job as a teenager working the box office at our local movie theater. The film 10 with Dudley Moore and Bo Derek was showing and although I barely remember a thing about the movie itself, I vividly remember that BOLERO was the running theme throughout. Many people associate certain music with the cartoons they watched as children, or with TV commercials. Is that "lowbrow"? I don't think so. I think it's a GOOD thing when people are exposed to classical music in any context. I have a degree in music, and have been listening to and performing classical music for decades, and many of those associations are in my head, too. Music is a living, breathing art form, and I think its power is strengthened by extra-musical associations. Think about it: if classical music weren't as powerful as it is, those commercial interests (Hollywood and Madison Avenue, especially) would not mine the repertory so extensively for their projects! So, if hearing Wagner's RIDE OF THE VALKYRIES makes you want to sing "Kill the Wabbit" or hearing THE SORCERER'S APPRENTICE by Dukas conjures the image of Mickey Mouse with his bucket and mop, I say enjoy it, and remember you are in excellent company!
Thanks, Mom!
---
Although Mother's Day is now past, it's always a good time to thank and acknowledge moms who instill music in their children's lives. Both my parents loved music, and they owned a substantial and somewhat eclectic collection of LPs (and some 78s!) they liked to play in the house. Although she never had any formal musical training, my late mother played the piano we somehow acquired. She couldn't read a note of music, so the music stand on the piano sat empty. But I can remember being a little girl, and watching her sit at the upright improvising pleasant-sounding chords and melodies. In hindsight, I realize she must have had a terrific ear for music to be able to do that! She's the one who signed me up for those early ballet lessons, and eventually, encouraged my pursuit of the flute. It certainly had a lasting and positive influence on my life! So, in honor of ALL moms who bring music into the lives of their children and nurture their interests, thank you!