Blog
Go, team!
---
Rumor has it there is some sort of big sporting event happening today. Not knowing much about these things, I can't take sides or even comment! But it brings to mind some famous (and a few infamous) MUSICAL competitions and rivalries in the baroque era! George Frideric Handel and Domenico Scarlatti were once set up to have a friendly "competition" to determine which man was the better keyboard player. The diplomatic judges named Handel as the better organist and Scarlatti as the superior harpsichordist. Jean-Baptiste Lully's admirers were displeased when Jean-Philippe Rameau came along with new and challenging ideas for French opera. The so-called "Lullistes" and "Ramistes" fought over those aesthetics for many years. There was also Christoph Willibald Gluck and Niccolò Piccinni, whose loyal fans continued to lock horns very publicly over which musician was a superior composer. When Johann Sebastian Bach was the leading keyboard player in Germany, his friend and colleague Silvius Leopold Weiss was the leading lute player.  One of their contemporaries, Johann Friedrich Reichardt, claimed that Weiss challenged Bach to a friendly private competition improvising fantasies and fugues. (http://www.bach-cantatas.com/Lib/Weiss-Silvius-Leopold.htm) Some of these stories may be apocryphal, or exaggerated, and I suppose we may never know the whole story. But it seems the desire to choose sides and compete is a deeply human impulse. On a happy note, we can enjoy music by ALL of these fine composers, whether or not we take sides or have a favorite. Everyone's a winner! Now, please pass the guacamole!
You don't know what you have until it's gone
---
Let's be honest: we often take important things for granted, despite our best intentions. Being deprived of something that has become a regular, expected part of life can bring us to a screeching halt. Despite the immediate inconvenience, there can also be a silver lining. For example, I recently lost my voice -- NOT a good thing for someone who works in radio! However, there was a positive aspect to my imposed silence: music. I normally listen to a lot of music, as you'd expect. And while I do listen for pleasure, a LOT of my music listening is for my work on Sunday Baroque. But during my laryngitis, I listened to more music and more varied music than usual. What a pleasure it was to reconnect with music that had migrated to the bottom of my usual playlist, and to reconnect with the practice of listening to music purely for pleasure. It's a great reminder that we need not wait for the inconvenience of an involuntary deprivation to be mindful of things we care about, and to reconnect with semi-forgotten things we enjoy that might be outside our established daily routines. I look forward to making more time to listening to music for pure fun. (And I look forward to getting my voice back!)
Resolve to share your love of music
---
Happy New Year! Even if you're not the type of person who makes New Year's Resolutions, I'd like to offer a suggestion to consider. As a classical music broadcaster and a musician, I am frequently faced with the question of how to get more people to listen to classical music. For decades, pundits have been raising alarms about the supposed "graying" of the audience, forecasting the demise of symphony orchestras and other performing groups, and lamenting the decrease of classical music on the broadcast airwaves. While these trends are worthy of our attention, I am not quite so cynical about what they mean for the future of classical music. There continues to be a steady stream of new, young performers and ensembles coming onto the scene and there are new and innovative ways to distribute and listen to their artistry. They produce their own performances, retain the rights to their work, perform in new unconventional venues, and recruit their peers to attend their concerts. It's exciting and inspiring to witness the innovative spirit and entrepreneurship of talented, technologically savvy musicians! Classical music audiences have always been a little "grayer" than the general public. Maybe it just takes wisdom, experience or a different stage of life to appreciate the art form. Maybe it's just different for everyone, and takes time for some of us to "age into" embracing the genre. There's also the obstacle that while some people are open to the idea, they are intimidated by real or imagined fears: how to choose something they will like, what to wear, when to clap. One thing is certain: people who are never exposed to classical music will never learn to love it. So here is my suggestion for your 2018 resolution: make it your business to introduce someone to the music you love. Be a mentor. Play Sunday Baroque for your niece or grandchild, take your neighbor to a concert, share musical performances on your social media, and do anything else you can think of to make that love connection between the music and someone who hasn't yet heard it. I have season tickets to a chamber music series that offers vouchers to subscribers to bring a friend for free to many of the season's concerts. Maybe your favorite ensemble or concert series has something like this too? Find out, and bring someone. You love music, I love music, we listen to music. Let's resolve to spread the word and SHARE our love of music with someone new in 2018!
Music & Human Connections
---
Sunday Baroque listeners frequently contact me to say how much they enjoy the music and how much it means to them. You've told me it helps you feel happy, provides companionship, enlightens you, and more. These stories affirm my personal belief in the power of music, and remind me to appreciate how extraordinary that power can be and not take it for granted. Every now and then, a story about music illustrates just how profoundly it can influence human connections. Take the experience of Naomi Feil and Gladys Wilson. Ms. Feil used music to reach into Ms. Wilson's mind, long isolated in dementia, to create a warm human connection, elicit a reaction and a create a communication breakthrough. Their one-on-one exchange is deeply touching. Watch it here:  http://www.memorybridge.org/video9.php There is so much to love and admire about this, and it takes my breath away every time I watch it. How do you experience the power of music? Have you seen music provide connection to a loved one who was otherwise unreachable? Please share your personal story of what music means to you.
Delicious traditions
---
I love to bake. I love to cook. I love to entertain. That's why, at this time of year, I am in my element! As the winter holidays approach I get a little giddy as I start stocking up on flour, sugar, butter, cream cheese, sprinkles, walnuts, extracts and other staples of my winter baking pantry. I pull out the recipes employed for decades to bake a variety of holiday goodies, including many that are longtime family traditions. Favorites include my family's Hungarian cookies featuring a cream cheese/butter dough, rolled out and filled with walnuts and raisins or apricot or prune. Other must-haves are Italian anginetti cookies -- tiny citrusy cakes iced and splashed with cheerful sprinkles, pignoli cookies -- a rich almond base studded with pine nuts, baklava, and chocolate Yule log -- OH MY! The funny thing is that I don't have much of a sweet tooth. (Thankfully!) However, I love to MAKE these goodies, and I love to serve them and give them as gifts, and it's why I enjoy this time of year so much. What are your food traditions at this time of year? Do you have recipes lovingly passed down through the generations? How did you learn how to make them? When do you start preparing your holiday treats? What other holiday traditions to you look forward to celebrating? Please take a few minutes away from the kitchen to share your favorites!
Suzanne's First Turkey and Other Thanksgiving Adventures
---
At this time of year, I contemplate how grateful I am for my good fortune, including the gift of music my parents gave me. They were not musicians themselves, but they loved music and had many LPs in the house that played frequently, and they sang along and danced. They also had a piano, and when it came time for me to choose a band instrument they willingly rented, then bought, a flute for me. Soon after, they signed me up for private lessons. My parents also passed along other traditions. Our house was typically where my family celebrated Thanksgiving, and the guest list always included an assortment of friends, too. I've embraced that tradition, and this year (as it is most years) the guests around our Thanksgiving table will include a rich and lively blend of family and beloved local friends. This year we will also be joined by some international guests -- three of my husband's coworkers will experience their first American Thanksgiving meal in our home! Some of my family's other Thanksgiving "traditions" are more dubious and those are, of course, often the most memorable and the funniest. For example, every year SOMETHING did not get cooked for one reason or another. One year, in a spectacular Thanksgiving fail, my mother put the turkey in the oven and when she checked it a few hours later, she discovered she had not turned the oven on! Another Thanksgiving ritual involved the turkey giblets. Every year my mother dutifully removed the giblets, placed them in a small saucepan and simmered them on the stove top. At the end of the day, as the dishes were being washed, the forgotten saucepan full of desiccated giblets was discovered and promptly discarded. Every. Single. Year. Then there was the year illness sidelined both my parents, but they still wanted to host the Thanksgiving meal. My siblings and I took over the planning and execution of the meal, with my vegetarian sister claiming dibs on side dishes, and my other sister applying her master baking skills to dessert. As the only one still living in my parents' home at the time, my default job was preparing the turkey. I was still a teenager and had never done this, and had nobody to advise me. It seemed straightforward enough. What could go wrong? (hint: I stuffed the wrong end of the turkey) What are you thankful for this year? What are some of your Thanksgiving traditions? Who will be around your holiday table this year? Please share your Thanksgiving stories -- heartwarming or funny. Wishing you a happy, healthy, mishap-free Thanksgiving.
World Kindness Day
---
Today is (apparently) World Kindness Day. I was alerted to this by a kind friend, and in looking up the observance I learned it was established on November 13, 1997 by a consortium of humanitarian groups. They wanted to encourage people to do something kind, whether it's donating time, money or goods to a worthy organization or person, or committing an act of kindness -- large or small -- for a friend or stranger. I LOVE the idea of World Kindness Day, and the idea of kindness has been looming large in my consciousness, especially lately. In the last few days alone I have been the recipient of kind words from Sunday Baroque listeners telling me how much they enjoy the music on the program. I experienced the kindness of two extraordinarily talented musician friends who shared their artistry with an enthusiastic audience to benefit a local public radio station, AND extended the kindness of letting me perform with them. I also witnessed the kindness of a group of people -- including several strangers -- spending hours helping a friend search for a beloved missing pet. Being kind is simple and inexpensive, and yet quite valuable. It benefits the recipient as well as the giver of the kindness, and it benefits society.  So I'm on a mission today to seek out ways to commit random acts of kindness, and I invite you to join me. Do something kind, witness an act of kindness, or accept an act of kindness and pass it along. Thanks for YOUR kindness!
Keeping it Fresh
---
We are marking the 30th anniversary of Sunday Baroque -- the program I originated on WSHU Public Radio as a local show, and which we ultimately began distributing nationally 19 years ago. Listeners frequently ask me how I keep Sunday Baroque fresh week after week, especially after so many years. Probably the most important factor is that I retain the same wonder and enthusiasm for sharing music as I did in the beginning -- maybe even more so, as I've learned and experienced more myself. There was an interview with a commercial airline pilot on another public radio show recently, in which she shared that she still feels the same exhilaration and wonder about launching a 175,000 pound metal tube filled with people into the air (and eventually landing it) safely. Her words resonated, because even though it's not the same kind of scientific achievement, I retain a sense of wonder about the music, and about my role in sharing it. (AND I, too, think that flight technology is miraculously wonderful!) Each week I approach Sunday Baroque as a blank canvas, and ask myself a number of questions, such as: What is a wonderful recording I'm excited to share? What significant event or holiday is happening in the world? What cool things are my fellow musicians (or other interesting people) doing? How can I connect these events with music to share with listeners? What extraordinary recording --- new or old -- do I want to spotlight? What compelling story ought to be shared -- about a musician, composer, composition ... ? I know someone new is tuning in EVERY time ... someone who has not yet cultivated a passion for this music ... and I try to listen with that person's ears and experiences, and to help them feel welcome and appreciate what is special about the music. I also know there are some listeners who know a lot about the music already, and it's a fun task to find new angles to keep them engaged, too. I want to craft an entertaining listening experience that invites anyone who appreciates good music performed well. I want to provide context and information -- just a little bit! -- to enhance the listening experience, intrigue and tantalize. With more than two centuries' worth of music to mine, and thousands of CDs to choose from, that blank canvas becomes easy to fill! Thanks to the extraordinary evolution of technology in these 30 years, listener feedback is more immediate and comprehensive, too. In those early years, the phone, the US postal service and face-to-face meetings were the only means of communication with you. Today, the internet has facilitated email and multiple social media platforms, as well as making Sunday Baroque available across the globe. It's my privilege and pleasure to share this music with you, and I look forward ever-enthusiastically to what the future brings. Thank you for listening, whether you've been with me from the beginning 30 years ago, or if you've only recently discovered Sunday Baroque.
Lifelong learning
---
If you follow Sunday Baroque on Facebook, you may have seen the recent posts from Germany. I was privileged to travel with a group of music lovers to significant places, including Berlin, Leipzig, Köthen, Arnstadt, and Dresden, where we were steeped in the history, architecture, art and music of the region, including several musical performances. This was a group of experienced travelers, some of whom had been to these cities before our trip. It was also a group of sophisticated concertgoers, who regularly attend musical performances in their own communities across the United States. And yet, what was so extraordinary -- and inspiring -- was the sense of wonder, enthusiasm, delight, and appreciation for everything we encountered. We learned new things about Johann Sebastian Bach, George Frideric Handel, and other musicians -- not just their music, but their personal lives and the world in which they lived. We also gained more nuanced perspectives about historical events in world history as we walked the streets where they occurred. It was an affirmation and a welcome reminder that we can always learn something new when were are open to the experience. I return to work now with a renewed sense of optimism and appreciation for new experiences in everyday life, and I thank my fellow travelers for their inspiring spirit and attitudes.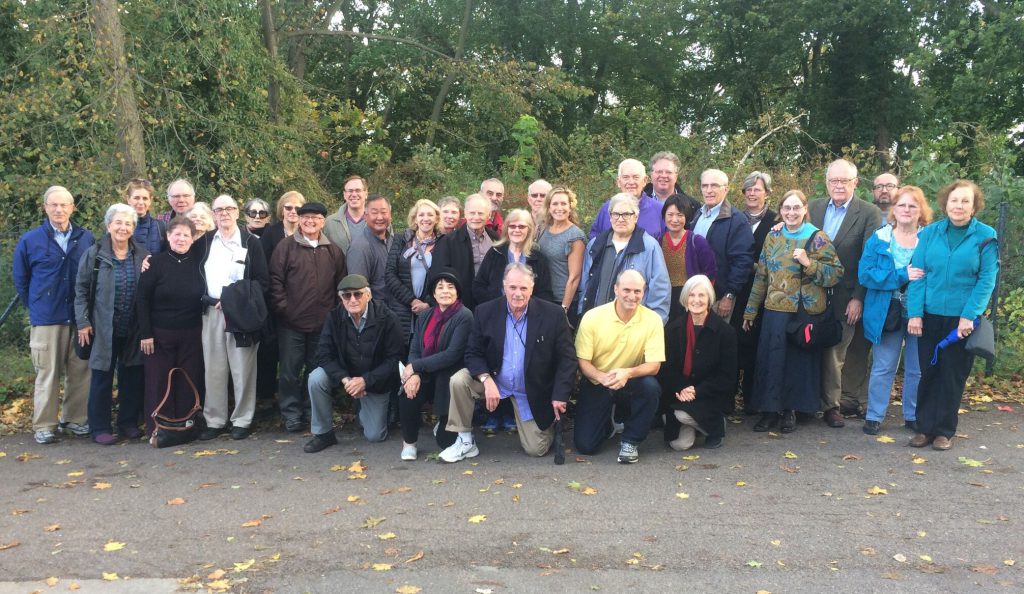 Transformation
---
Not long ago, a listener sent me a message saying how much he enjoys Sunday Baroque. He identified himself as an "old rocker" who grew up in the 70s and 80s but who, nevertheless, finds himself newly captivated by baroque music. It reminded me of an interview I heard recently with travel expert Rick Steves, in which he talked about the "transformational" experience of travel. He pointed out how when you go to someplace new, somewhere you've never been and may have questions about, and where you may not even speak the language, it can transform you. That "old rocker" listener's comments demonstrate that music can be transformational, too. Someone might assume he won't like classical music because rock has been his staple genre, but when he listens to Sunday Baroque he finds the music comforting, appealing, even familiar. Not everyone is as fortunate as I was to have classical music in my life from the beginning, but I hope some will find their way to it through Sunday Baroque and feel welcome and ... transformed. I remind myself often that there is ALWAYS someone hearing this music for the first time, just as I am still discovering music and genres I didn't know I'd enjoy. How about you? Do you recall your first introduction to classical music? Were you like the "old rocker" who found his way to baroque music or the broader classical music tradition later in life? How did that happen? Was it transformational in some way? Please share your story!