Blog
The Music of Strangers
---
Two decades ago, cellist Yo Yo Ma embarked on a new musical journey, forming his Silk Road Ensemble. It's a multicultural artistic collaboration between musicians from all over the world. They have made recordings, earned a Grammy nomination, commissioned diverse new musical works, created collaborations with students and teachers, and so much more. Silkroad boldly states its mission:
SILKROAD CREATES MUSIC THAT ENGAGES DIFFERENCE, SPARKING RADICAL CULTURAL COLLABORATION AND PASSION-DRIVEN LEARNING TO BUILD A MORE HOPEFUL WORLD.
For those of us who experience music as a powerful emotional force, Silkroad's mission resonates as much as the ensemble's performances inspire and entertain. In case you missed it, there was a terrific documentary made about the Silk Road project: THE MUSIC OF STRANGERS. It's a behind-the-scenes look at some of the individual musicians, framed in the context of their personal backgrounds and world events.  The documentary reminds us that, despite some outward differences, we humans have much more in common with one another than we sometimes acknowledge, and there is big payoff in learning more about our commonality. THE MUSIC OF STRANGERS is joyful, touching, and a powerful example of the transcending power of collaboration. I highly recommend it!
The Path to Success
---
Some of the things I'm most grateful for are things I did not plan for and could not have imagined for myself. For example, as a young musician, I hoped/dreamed/planned to be a full time flutist performing in a significant professional orchestra. Yet, along the way, I stumbled into radio and fell in love with the medium. It changed my perspective and my life for the better in ways too numerous to list. In hindsight, I even question whether I would have been truly happy as a full time orchestral musician, and I deeply appreciate the many "happy accidents" that steered me on such a satisfying path as a broadcaster AND professional musician. Most of us have had path diversions of some kind, and they are not always "happy" either, or at least they don't seem so at first. Years ago I interviewed the remarkable pianist Leon Fleisher. He was a child prodigy who grew into an astounding rising young concert pianist, when he lost the use of his right hand due to focal dystonia. As a result, he had to completely rethink his career and forge a new path. He focused on performing the left hand piano repertory and becoming a conductor and esteemed teacher and mentor. He has an extraordinary life and career, and I asked Mr. Fleisher if, in hindsight, he wished he could have done it differently. His telling answer was: no! He embraces the remarkable result of that initially painful change in his plans, hopes and dreams. I recently spoke with a young musician friend who is at a crossroads right now in his professional and personal life. He is a talented American singer who is enjoying success abroad, albeit not in the quality and quantity he hoped for, nor on the timetable he expected. Like many of us, he internalized the message that if one follows a certain script -- "Do A, B and C ... and you will achieve X, Y and Z." -- one will achieve the prize. Now he is staring at the reality that things don't always go according to plan, and don't necessarily bring the happiness and satisfaction one expected, and he is struggling with those assumptions he made and what to do next. My advice to him was to be open to opportunities, take some chances, keep doing his homework about his options, think broadly about his many skills and experiences, and eventually ... take a leap! I reassured him that many successful people arrive at their success through circuitous paths that were not what they planned or imagined. In fact, I'd guess that is true to some extent for most successful and satisfied people. What's your story? Did you have some "happy accidents" that set you on a different path than you'd planned for yourself? How did it work out for you? What pearls of wisdom would you share with a young friend at such a crossroads?
Is your glass half full?
---
What will you do to make yourself happy today? It's a question I sometimes ask people, an extension of a question I've made a habit to ask myself each day. Sunday Baroque listeners frequently say the music on the program makes them happy and provides mental and emotional nourishment. Recently a listener told me he likes Sunday Baroque, in part, because he can hear the smile in my voice. What a heartwarming compliment! The smile in my voice is my authentic self, because I love my work and I love connecting with listeners. I am also keenly aware and appreciative that I'm naturally hardwired to be a happy and optimistic person. Producing a music program for people who enjoy it gives me great joy and satisfaction, and I nurture my natural inclination to be positive with other activities and personal connections that support and enhance my happiness. Most of these are the "small picture" things ... get some exercise, chat with a friend, listen to music, play my flute, read a good book, play with the cat, try a new recipe, plan or complete a project, watch a silly movie or video that makes me laugh or provides food for thought. These are simple tasks and simple pleasures, and they are things that contribute incrementally to giving me happiness each day and over time. They provide order -- and disorder! -- that is pleasing and gratifying. They also give me a sense of satisfaction, as well as a sense of some control over my fate. When I look back over days, weeks and months, I see evidence that I can steer the course of some things that are most important to me and I need not settle for having regrets. There are plenty of studies demonstrating that optimism is good for one's health. Even people who are not necessarily hardwired for optimism can tweak some of their behaviors and change their internal narratives to see things through a more optimistic lens. What about you? Is your glass half full or half empty? What do YOU do to make yourself happy?
Memories
---
My earliest Memorial Day memories are connected to my earliest days as a fledgling musician. My hometown Memorial Day parade included most of the local public school bands, and we looked forward to it every year with a sense of excitement and gravity. We prepared extensively, practiced marching along while playing our instruments, and learned the protocols and significance of the reviewing stand and the ceremony at the end of the parade route honoring so many brave souls. This early attempt at multi-tasking was not easy for little kids, but we understood we were part of a larger and more significant tradition, and we threw ourselves into the task. All these decades later, those Memorial Day parades are still deeply imprinted in my mind and soul when this holiday arrives each year. What are your Memorial Day memories? What traditions do you have for this solemn holiday? How will you find peace and inspiration? Please share your reflections.
Sunday Baroque gets new digs!
---
When I originated Sunday Baroque as a local public radio program on WSHU in Fairfield, Connecticut nearly 31 years ago, it coincided with WSHU's move into a little house on the periphery of a small but growing college campus. As Sunday Baroque grew, so did WSHU's operations, and we quickly outgrew the house. For many years, we have taken great pride in producing amazing radio from such humble studios (not without occasional private grousing about the limitations) but I'm so pleased to report that we just cut the ribbon on a beautiful new facility! It was two and a half years ago that we broke ground on this state-of-the-art studio and office space. We marked that occasion with a fun musical presentation of a few highlights of the little house's colorful history.   https://www.youtube.com/watch?v=Fo37jjWPZA8&feature=youtu.be [caption id="attachment_2071" align="alignright" width="300"]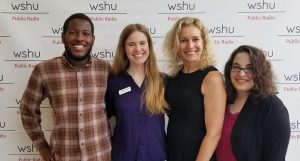 Anthony Moaton, Joelle Schrock, Suzanne Bona, Julie Freddino[/caption] Even as dilapidated as it is, the little house has been the site of countless wonderful memories, including the birth of Sunday (Morning) Baroque in 1987 and the launch of the renamed national show, Sunday Baroque, in 1998. Today, Sunday Baroque is broadcast on approximately 200 radio stations nationwide. This remarkable growth has been made possible thanks to generous listener support and advocacy. The Sunday Baroque team -- Julie Freddino, Joelle Schrock and Anthony Moaton -- is an extraordinary group of capable professionals who have made the program sound terrific from the little house. We all look forward to this exciting new beginning, and we thank you for YOUR support!
Happiness is a state of mind
---
"Happiness is a state of mind." That was the wise message I received in a fortune cookie the other day. It had me thinking about things that give me happiness, and observing things that make others happy. Music is, as you might expect, a huge source of happiness, and some recent events illustrate that beautifully. A few weeks ago I performed with my trio in another city, and I stayed at the home of a 20-something family member. She's a smart, well-educated and accomplished young woman with a successful career and life, a circle of friends, and diverse interests that include travel, pets, cooking and more. I invited her to attend one of my group's performances, and when we got in the car to go home afterwards she announced with breathless enthusiasm, "I LOVED THAT!!!!"  She went on to explain that she hadn't known what to expect, doesn't really listen to much music of any genre, and had assumed classical music was quiet and low energy. She was truly surprised and delighted by the experience -- more than just polite praise, this was unbridled enthusiasm. I am still tickled by her outpouring of enjoyment. And then yesterday, I attended a chamber music performance in a small church. Some of the audience seats are in the choir section directly behind the performers, so the rest of us in the audience could see their faces. One woman, in particular, was clearly mesmerized with delight as she watched the performers intently, beaming and slightly swaying to the music. It added to the joy on the performers' own faces as they exchanged meaningful glances and gestures while playing. I can think of many other examples of spontaneous, outward joy created by music, and I feel fortunate to have that connection to something that is a source of such happiness for me and others. Do you have special memories of music giving you that kind of emotional rush? What experiences stand out in your mind when music has filled your heart with happiness?
It Takes a Village ...
---
I attended an impressive concert yesterday! Christina Nam is a 15-year-old violinist who is preparing to compete in Geneva, Switzerland in the Menuhin Competition. She is one of 44 of the world's top young violinists competing before an international panel of judges, acclaimed musicians who have all gone through what Christina and her fellow competitors are experiencing now. It goes without saying that Christina has tremendous musical talent -- technical skills and beautiful tone. One does not qualify for a prestigious international competition without that! But there is so much more to say about her ... she is poised and confident, focused and disciplined, and she has mature musicality. Maybe best of all, she is also (according to her teachers, and from what I have observed) a normal 15-year-old girl, albeit one who is currently playing on a priceless 18th century violin. She is a kind, funny, giggly teen with lots of friends. One of her most influential mentors described her as "grounded." I heard Christina play at a house concert hosted by family friends, and the audience included an extended network of friends and family, her teachers, and professional musicians in the community. We were all impressed. Seeing young people on fire for classical music gives me optimism about the future of the genre. It is equally encouraging to see young people so passionately pursuing their hopes and dreams, musical or otherwise, supported by so many people in such healthy and meaningful ways. Christina's parents (who are also musicians) have given her support, encouragement and guidance, as well as space to be a 15-year-old girl. Her teachers have given her excellent training and mentoring, while fostering a realistic and healthy attitude about the life ahead of her. And her circle of friends and family are eager to cheer her on! It really does "take a village" to raise great young people, whatever their strengths and passions may be. I can't wait to follow Christina in her quest. Here is a link to the Menuhin Competition website, in case you would like to know more. https://2018.menuhincompetition.org/
Two outstanding women!
---
March is the annual celebration of Women's History Month. It's designated as a time to  celebrate the vital role of women in American history, as well as applaud the contributions of contemporary women in all fields of work. It's a perfect opportunity to single out two outstanding women for well deserved praise and celebration: Julie Freddino and Joelle Schrock. They are the two behind-the-scenes producers at Sunday Baroque, and you may recognize their names from the credits you hear each week on the program. They do the hands-on work to load the CDs you hear, manipulate computer files, edit audio, comb through the finished product to make sure it's perfect, work on the website, interact with staff at stations around the country who broadcast Sunday Baroque, provide helpful feedback and suggestions to me, and so much more. They are dedicated and disciplined, capable and creative, enthusiastic and eager to excel. Each is a dynamo on her own -- together they are an amazing team! While I get to be the public face (voice) of Sunday Baroque, Julie and Joelle are the solid foundation of the operation. EVERYTHING you hear has been touched by one or both of them in some way. So, here's to you, Julie and Joelle, with thanks for ALL you do!
Ahhhh, Bach!
---
The annual Sunday Baroque Bach Birthday Bash will be broadcast on Sunday, March 18. Although I don't usually overtly observe birthdays of composers on Sunday Baroque, I have produced an all-Bach edition of Sunday Baroque every March since I originated the program more than 30 years ago. That's because Johann Sebastian Bach is different. Many musicians refer to Bach as an inspiration, even musicians known for non-classical genres (as well as poets, artists, scientists and others), so his legacy has special significance. His reputation is well known enough to make its way into popular culture, such as that classic scene in the '70s-'80s television show M*A*S*H in which Hawkeye advises Radar on how to impress a woman by saying, "Ahhh, Bach!" https://www.youtube.com/watch?v=aYSG8AQO3tw When I'm crafting the Bach Birthday Bash every year, I seek out different angles in which to frame Bach's music and present it in contexts that illustrate the master composer's continued relevance all these centuries after his lifetime. This year on the Bach Birthday Bash you will hear selections from outstanding recent recordings by top performers of Bach's music, as well as some of the composer's familiar favorites, and selections that have been adapted for unusual instruments by contemporary performers. The featured musicians revere Bach's music and legacy, and they approach it with their greatest technical expertise, sense of authenticity and profound reverence. Every year, the Bach Birthday Bash is my way of honoring that legacy and introducing listeners to what Bach means to musicians, including myself. With the allotted time, we can only scratch the surface of such an extraordinary genius, so I hope the program will be an "appetizer" that provides an entertaining listening experience and inspires you to seek out more on your own. After listening, I hope you'll also want to say "Ahhhh, Bach" and have many wonderful ways to explain why!
Baroque or (ba)Rock and Roll?
---
How does one define "classical" music? How is it different from other genres, such as "rock and roll" or "jazz"? In what way is "baroque" music different (or the same) as other so-called "classical" music? Why do we carve musical genres into these subsets, anyway, and what are the characteristics that define each and create distinctions from other genres? Is there more commonality between genres than we realize? I ponder these questions, and use these specific examples, in part because I thoroughly enjoy music in all these genres (and more), and I notice that some other people have more exclusive and fixed musical tastes. And the question is important because I wonder if people who *think* their tastes are finite might thoroughly enjoy other music if only they were open to the idea and exposed to high quality examples. A number of music lovers over the years have told me their favorite two musical genres are baroque and ... (surprisingly) heavy metal! I have heard this too many times to count, from teenagers in Metallica t-shirts attending a harpsichord recital, to adults who email to say their lifelong love of Megadeth has morphed into an affinity for Bach's Magnificat. And while I *LOVE* these stories, and have heard variations on them for decades, I have yet to identify the connective thread between the genres. Maybe you can help unlock this mystery. Are you someone who likes many different musical genres? How did your tastes evolve? Can you describe what you like about various types of music? Are they connected in some way that you can explain? Why do you like the music you like?