Blog
Lifelong learning
---
If you follow Sunday Baroque on Facebook, you may have seen the recent posts from Germany. I was privileged to travel with a group of music lovers to significant places, including Berlin, Leipzig, Köthen, Arnstadt, and Dresden, where we were steeped in the history, architecture, art and music of the region, including several musical performances. This was a group of experienced travelers, some of whom had been to these cities before our trip. It was also a group of sophisticated concertgoers, who regularly attend musical performances in their own communities across the United States. And yet, what was so extraordinary -- and inspiring -- was the sense of wonder, enthusiasm, delight, and appreciation for everything we encountered. We learned new things about Johann Sebastian Bach, George Frideric Handel, and other musicians -- not just their music, but their personal lives and the world in which they lived. We also gained more nuanced perspectives about historical events in world history as we walked the streets where they occurred. It was an affirmation and a welcome reminder that we can always learn something new when were are open to the experience. I return to work now with a renewed sense of optimism and appreciation for new experiences in everyday life, and I thank my fellow travelers for their inspiring spirit and attitudes.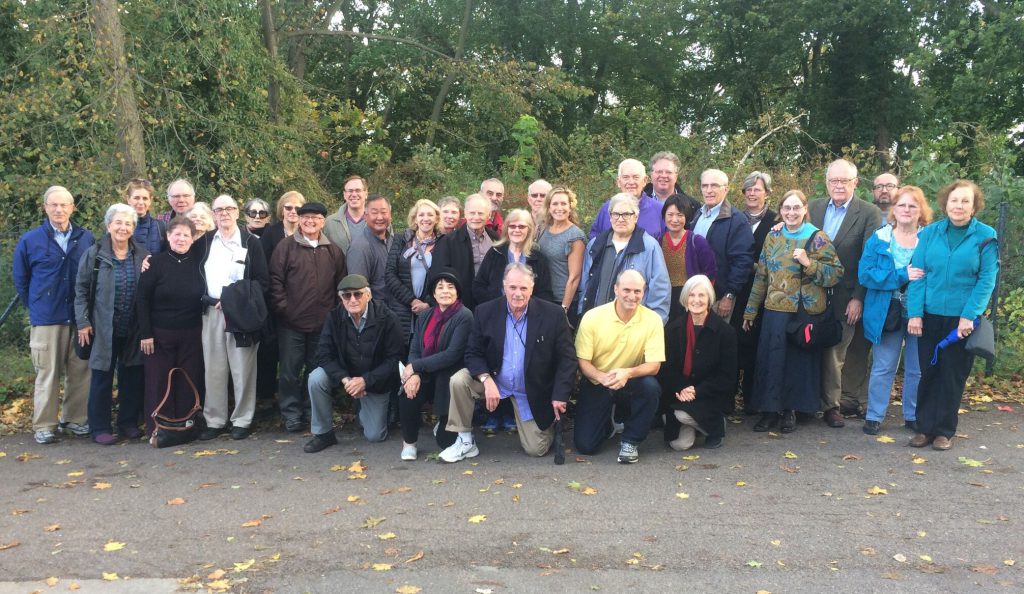 Transformation
---
Not long ago, a listener sent me a message saying how much he enjoys Sunday Baroque. He identified himself as an "old rocker" who grew up in the 70s and 80s but who, nevertheless, finds himself newly captivated by baroque music. It reminded me of an interview I heard recently with travel expert Rick Steves, in which he talked about the "transformational" experience of travel. He pointed out how when you go to someplace new, somewhere you've never been and may have questions about, and where you may not even speak the language, it can transform you. That "old rocker" listener's comments demonstrate that music can be transformational, too. Someone might assume he won't like classical music because rock has been his staple genre, but when he listens to Sunday Baroque he finds the music comforting, appealing, even familiar. Not everyone is as fortunate as I was to have classical music in my life from the beginning, but I hope some will find their way to it through Sunday Baroque and feel welcome and ... transformed. I remind myself often that there is ALWAYS someone hearing this music for the first time, just as I am still discovering music and genres I didn't know I'd enjoy. How about you? Do you recall your first introduction to classical music? Were you like the "old rocker" who found his way to baroque music or the broader classical music tradition later in life? How did that happen? Was it transformational in some way? Please share your story!
Falling for baroque music
---
The Autumnal Equinox is almost here -- Fall begins on Friday, September 22. Baroque era composer and violinist Antonio Vivaldi famously honored each season with a Concerto, and an accompanying sonnet for each. In his AUTUMN Concerto, Vivaldi depicted "The peasant celebrates with song and dance the harvest safely gathered in," "cooling breezes," and hunters who "emerge at dawn, ready for the chase." [caption id="attachment_1528" align="alignright" width="300"]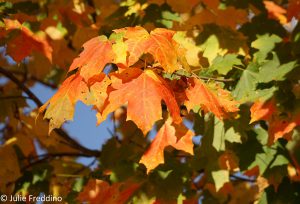 Autumn Leaves[/caption] Vivaldi's FOUR SEASONS are among his most famous compositions, and some of the "greatest hits" of the baroque era. But did you know that another Italian composer also wrote FOUR SEASONS, accompanied by sonnets, at roughly the same time as Vivaldi? (maybe even a little earlier) His name was Giovanni Antonio Guido, although we know much less about his life than we know about Vivaldi's. As you welcome the new season, I hope you'll enjoy listening to Giovanni Antonio Guido's musical take on AUTUMN. https://www.youtube.com/watch?v=4BgugsHRw4g
Sentimental Journey
---
This is a milestone week, and I'm feeling sentimental. On September 6, 1987 I hosted my first radio program! It was a local show on WSHU Public Radio in my hometown of Fairfield, Connecticut and the manager there entrusted me with the responsibility and privilege of being a radio announcer despite my complete lack of experience. Armed with my newly minted degree in music, I had never even set foot in a radio station before that week, and it was truly seat-of-the-pants learning. "Sunday Morning Baroque" was born on that day. It was a 90 minute "filler" program between two network shows, airing from 8:30-10am, and the only instructions given were to "play baroque music." When I opened that microphone for the first time, it was terrifying and thrilling. If only there were a tape of those first few shows! It changed my life. [caption id="attachment_1502" align="alignright" width="238"]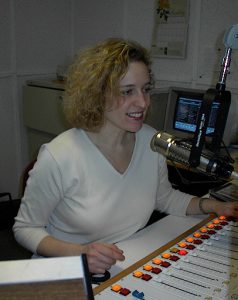 Suzanne at the WSHU studio (1999)[/caption] Listeners like you responded enthusiastically, and Sunday Morning Baroque lived and grew and expanded on WSHU. On September 6, 1998 -- eleven years to the day later -- the newly renamed "Sunday Baroque" was launched as a national program on four pilot stations in addition to WSHU: WGUC Cincinnati, KBAQ Phoenix, WETA Washington, DC, and WUSF Tampa. Today, more than 170 stations across the United States broadcast the program to hundreds of thousands of listeners, and Sunday Baroque is still growing as we continue to welcome new stations and new music lovers. Reflecting on these 30 amazing years, it's clear that listeners like you are the core of our success and growth by every measure. Your calls, letters, emails, and Facebook interactions have provided encouragement, feedback, motivation, guidance and inspiration. You have touched my heart with your countless stories of how the music on Sunday Baroque has entertained, comforted, inspired, amused, and illuminated you in some way. You played the music for your family, and now your kids tell me they grew up listening to the program! And your financial support of Sunday Baroque on your local public radio station has literally made it all possible. Thirty years ago this week I could never have imagined the path that has unfolded. So while this is technically my sentimental journey, I am profoundly aware that YOU are my treasured traveling companion. Thank you for taking Sunday Baroque along with you! [embed]https://www.youtube.com/watch?v=grRyVdFsHN4[/embed]
Music Hath Charms to Soothe a Savage Breast ...
---
Listening to the news about the effects of Hurricane Harvey this morning, I heard an inspiring story about a Houston businessman who reached out to his neighbors needing shelter. He has a large mattress store, so it was the perfect place for people who needed a safe, dry place to sleep in the aftermath of the devastation. The story was inspiring all on its own, and it warmed my heart even more when the announcer added that the businessman also welcomed people's pets. Our hearts go out to people devastated by such an unimaginable tragedy. And the tragedy is compounded for someone who must leave behind a beloved pet, so it was especially moving that the big-hearted Houston mattress store owner's heart is big enough to welcome ALL creatures great and small. It got me thinking about how our pets stake a claim on our hearts and in our everyday lives. I frequently hear from listeners who say they leave the radio on playing classical music for their pets when they're not home, as well as people who say their pets (or farm animals!) respond positively to hearing music. [caption id="attachment_1491" align="alignleft" width="300"]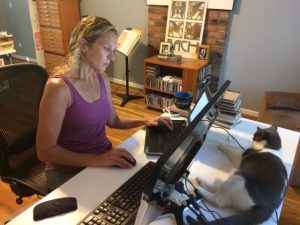 Suzanne Bona and Punkin[/caption] If you follow Sunday Baroque on Facebook, you may have seen photos of my "lovely assistant" sprawled across the computer keyboard or snoozing on my desk. Punkin is a 3 year old shelter cat, and while she didn't know much about music when she came to live here as a kitten, she quickly got up to speed as my Sunday Baroque honorary co-producer. She's not too crazy about the flute playing that goes on in this household -- ok, ok, she hates it, actually. But she seems to enjoy all the baroque music she hears on CDs and on the radio. And while I can't say music soothes this little savage -- she is the most high-energy, hyperactive pet I've ever had -- the music AND the energetic little savage definitely soothe this mistress! I'd love to hear about your pets, how they claim your heart and especially, if they respond to music! I have a feeling Sunday Baroque listeners have some great stories to share about music and pets.
High-Tech Baroque
---
Once upon a time, if you wanted to hear Sunday Baroque, you had to listen to it on your local radio station at the time it was broadcast. Once the broadcast was over, it was lost forever into the ether. But time marches on, and since I began hosting and producing this program, technology has exploded and there are now many high-tech options for listening. If the program is not broadcast on your local station, you can hear it in realtime on the websites of other stations around the United States. We also now archive each week's program and make it available directly from our website for a week beginning one day after broadcast. It's also available through a free app: if you search your preferred app store for "WSHU Public Radio" and download it, Sunday Baroque is one of the sources offered. I'm curious to know how you listen to Sunday Baroque. Do you listen to the program more than once? Is Sunday Baroque your companion during the week, at work or around the house? Where in the world are you? And what's your preferred technology for listening? I'm eager to know more about you, our circle of Sunday Baroque listeners, so please check in with your story!
My favorite things
---
A confession: I am not fond of "Best of .." lists. I even find them a bit exasperating. They are especially popular at the ends and beginnings of calendar years, but they pop up year round, too. People often ask me for lists of the "best" baroque music or recordings. The main reason I don't care for these well-intentioned lists is their attempt to put an objective categorization on what is typically highly subjective material. My ten favorite compositions (or whatever) might not be yours ... and why should anyone's ten (or hundred) favorites of anything be deemed the "best"? Don't get me wrong -- I certainly have my favorites, whether it's music or food or recreational activities, and I know you do, too. That's a good thing! But my favorites can change as my experiences widen, my tastes evolve and even as my mood changes. When speaking of an art form, "best of" lists can be especially exasperating because they are a static review of something dynamic, and they imply a finite limitation. That's contrary to the idea of the creative process! And how many times have you heard someone giving their "10 best" list of something, with the disclaimer that it was difficult (or impossible) to limit their list? While there might be certain fixed things that are definitive, or historically important, or significant in meaningful ways, I'm not completely comfortable with the idea that this automatically makes them the "best." And I'm uncomfortable with the subtle implication that anything else is lesser. So, I might share some of my favorite compositions or CDs, but don't look for a Sunday Baroque "Best Of" list in the future! What are some of your favorite baroque compositions and why do you like them?
My "Hero's Journey"
---
Although I frequently interview people as part of my job, I recently sat on the other side of the microphone and was the subject of an interview for a new podcast. Melodic Connections is a community music therapy studio in Cincinnati offering an array of programs for people of all ages with various developmental disabilities. Its students recently created their own podcast called HERO RADIO:STORIES BEYOND THE MUSIC, and they asked to interview me about Sunday Baroque and my life as a musician. I loved meeting and conversing with my interviewers -- Quincy, Ashley and "The Joes" -- and was impressed by their insightful and compelling questions. They even composed "superhero theme music" which they asked me to play for them on my flute! (A big relief for me, since they usually ask guests to SING their theme music.) I hope you will listen to my HERO RADIO interview and subscribe to the podcast on iTunes so you can hear what other people say about the importance of music in their lives! https://itunes.apple.com/us/podcast/hero-radio-stories-beyond-the-music/id1257084671
Classical music's future
---
Rumors of classical music's demise are greatly exaggerated. As long as I can remember, people have been pronouncing classical music as dying or dead. But last week, I had the pleasure of interviewing a young violinist who doesn't share that view. In some ways Michelle Ross has pursued a traditional path for a classically trained musician: earning a Juilliard School degree, studying Johann Sebastian Bach's music from a deeply scholarly perspective, and making her debut recording of music by Bach on a borrowed Stradivarius violin. [caption id="attachment_1405" align="alignright" width="300"]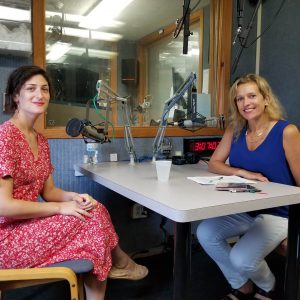 Violinist Michelle Ross and Sunday Baroque Host Suzanne Bona[/caption] But the twenty-something also took to the streets of New York to play Bach's Sonatas and Partitas in some unlikely places: a firehouse, the Staten Island Ferry, and a soup kitchen, to name just a few. Concert halls are fine, but she wanted to bring live performances of Bach's music into people's everyday lives. So ... she did. For her, the single most important thing is access. Give people access to the music, and it can change lives. She believes (and I agree) that the music speaks for itself. All these years, I've mostly ignored the pessimists, and Michelle Ross and her optimism renewed my faith. I hope you'll listen to my conversation with Michelle Ross, and be encouraged by her message, too. Listen to our conversation.
Party like the Founding Fathers
---
The "official" baroque era was 1600-1750. To put that into some context, George Washington was born in 1732, Thomas Jefferson was born in 1743, and Benjamin Franklin was born in 1706. They were all born during the baroque era! We know these men primarily for their roles as founding fathers of our country, but there were many other facets to their complicated lives, and music was among their interests. Benjamin Franklin was an enthusiastic music lover who played several instruments, and even invented one: the glass armonica. Thomas Jefferson described music as the "favorite passion" of his soul, and was an avid violin player who owned several violins and a huge library of music. And George Washington *liked* music a great deal, but only as a listener -- he admitted he couldn't carry a tune or play any instruments. So, however you are celebrating the Fourth of July holiday, I heartily encourage you to choose baroque music as your soundtrack and party like the Founding Fathers! www.SundayBaroque.org/listen